Swoon Thursday is a weekly feature hosted by #YABound
in which we share something that made us swoon in the
book we're currently reading or recently finished.
This week I'm featuring The Hating Game by Sally Thorne!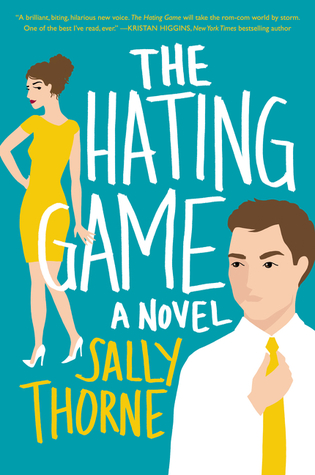 "Shortcake... I'm not going to kill you. You're so dramatic." Then he presses his mouth lightly against mine.
Neither of us closes our eyes. We stare at each other like always, closer than we've ever been. His irises are ringed blue-black. His eyelashes lower and he looks at me with an expression like resentment.
His teeth catch my bottom lip in a faint bite, and goose bumps spread. My toes curl into my shoes. I accidentally touch him with my tongue when I check for damage, although it didn't hurt. It was too soft, too careful. My brain is whirring hopelessly with explanations of what is happening, and my body begins to better its grip.
When he leans in again and begins to move his mouth against mine, softly plying it open, the penny drops.
Joshua. Templeman. Is. Kissing. Me.
When I first read this kiss scene, I got actual butterflies in my stomach because wow, it was so unexpected and swoony. This book was super cute and I liked it! Check back for my review soon (I hope)!