Waiting on Wednesday is a weekly feature hosted by
Jill at Breaking the Spine, which spotlights a
book we're hotly anticipating.
This week's WoW is...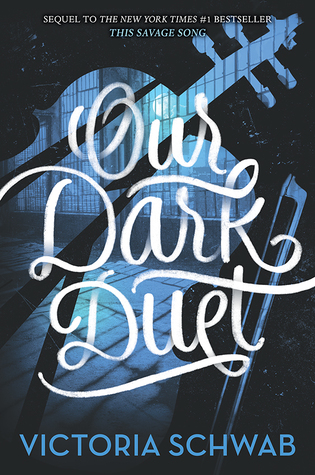 Book #2 in the Monsters of Verity series
Publishes June 13, 2017 by Green Willow Books
Kate Harker is a girl who isn't afraid of the dark. She's a girl who hunts monsters. And she's good at it. August Flynn is a monster who can never be human, no matter how much he once yearned for it. He's a monster with a part to play. And he will play it, no matter the cost.
Nearly six months after Kate and August were first thrown together, the war between the monsters and the humans is terrifying reality. In Verity, August has become the leader he never wished to be, and in Prosperity, Kate has become the ruthless hunter she knew she could be. When a new monster emerges from the shadows—one who feeds on chaos and brings out its victim's inner demons—it lures Kate home, where she finds more than she bargained for. She'll face a monster she thought she killed, a boy she thought she knew, and a demon all her own.
Previous Book
This Savage Song
Pre-Order Links
Amazon | Book Depository | Barnes & Noble | Indie Bound
Find the Author
Website | Twitter | Tumblr | Facebook | Blog | Instagram
Other Books
The Archived series | Shades of Magic Series | Vicious series| The Near Witch | Everyday Angel series
I am SO EXCITED ABOUT THIS BOOK. That last line just KILLS ME. Every single time. Plus, that cover? GORGEOUS. Love it.