Swoon Thursday is a weekly feature hosted by #YABound
in which we share something that made us swoon in the
book we're currently reading or recently finished.
This week I'm featuring Starflight by Melissa Landers!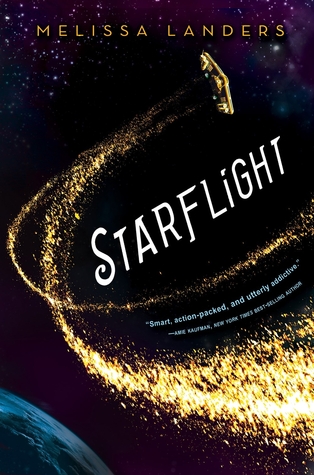 I could not just pick one from this book, so I give you TWO swoons today. That's right friends. Two.
Before she could even draw a breath to answer him, Doran

brushed her lips in a kiss that wiped her mind clean of everything

but the electric thrill of his mouth on hers. At the barest

contact, her insides did backflips, and when she rose onto tiptoe

for more pressure, her blood simmered to a boil. Right then, she

decided that their kiss behind the barn on Cargill didn't count.

Because it hadn't made her feel anything like this—as if her skin

were alive with energy and about to burst into fireworks.
This was their first kiss.
Aaaaaand now for the second:
At first he didn't say anything. He brushed back a stray tendril of hair that had escaped her braid and caressed her cheek while his eyes moved over her face. Then he wrinkled his brow as if trying to solve a quadratic equation. "Sometimes I look at you, and it feels like my chest is caving in. How do you do that to me?"



Solara's lips parted. How did she do it? She could very well ask him the same question, but she didn't. Because like so many other times when she was alone with Doran, the words wouldn't come. She didn't know why, only that there seemed to be a disconnect between her heart and her voice. Maybe she loved him more than words.
e-book, pg 355
This book! What a pleasant surprise it was! It came highly recommended to me and I'm glad I finally read it! And as my first #BeatTheBacklist book as well! Look for a review soon!