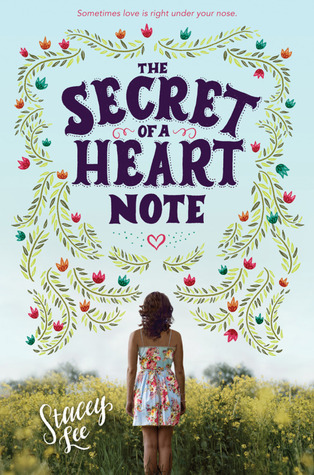 The Secret of a Heart Note by Stacey Lee
Standalone Novel
Published December 27, 2016 by Katherine Tegan Books
Love chose me, and I tried, but I couldn't stop the arrow in its flight.
As one of only two aromateurs left on the planet, fifteen-year-old Mimosa knows what her future holds: a lifetime of using her extraordinary sense of smell to mix base notes, top notes, and heart notes into elixirs that help others fall in love.

All while remaining incurably alone. For Mim, the rules are clear—falling in love would render her nose useless, taking away her one great talent. Still, Mimosa doesn't want to spend her life elbow-deep in soil and begonias. She dreams of a normal high school existence—taking up a sport and limping away flush from victory, joining the debate club and saying things like "That's a logical fallacy!" Having a boyfriend.


When she accidentally gives an elixir to the wrong woman and has to rely on the school soccer star to help fix the situation, Mim quickly begins to realize that when it comes to falling in love, the choice isn't always hers to make.
-----
My Review
♫ ♫ ♫ ♫
What an adorably unique book! As my first novel by Stacey Lee, I can proudly say that I loved this book and I do hope more people read it. Lee combines a contemporary California (I forgot where exactly, it's been like a month, and this review itself is way overdue) with a fresh blend of magical realism that makes this book both adorable and intricate!
Mim was just a darling character. She was torn between wanting to be a regular teenager—who can eat salty foods and go to math class and fall in love—and being the aromateur her strict mother is.
I absolutely adored her and her inner monologues. Mim was such a relatable character, despite the fact she basically has a supernose. Anyway, Mim's narration was as wonderful as her character. She never gave up despite how, well, admittedly, odd her situation was. She was fun, adorable, and a refreshing character, and I enjoyed her from page one.
The mother-daughter dynamic in this book was a complex one. Mim's mother follows the old traditions of aromateurs to the book and she implements the rules onto Mim, which, in turn, make it hard for Mim. She disagrees with many of the rules, so having to live with them was a bit difficult. At times, it causes Mim to wonder if her mom loves her or just her nose, and that kind of insecurity was always a bit hard to read because Mim was such a sweet and brilliant young lady.
Stacey Lee is an amazing writer and while that definitely shows through her characters, her descriptions also shine. She included a variety of emotions throughout the books, but what was more was that she also included their smells. Their scents, whatever, you get what I mean. The whole idea behind aromateurs was incredibly interesting—they made "love" potions based on a person's heart notes and emotions, a concept that was new to me and wholly intriguing to read about.
There was an adorable and slow build-up of a romance in the book! Court and Mim were so cute and each interaction was just super, well, cute. A bit weird, but it totally fit their characters and situation. I loved how Court wouldn't give up on Mim and I loved how Mim tried not to fall for Court and awwwwww. They made such a cute couple.
The relationship between Mim and her best friend was also another great aspect of the book. While I loved seeing it, there was a point in the story where they weren't talking so understandably, their interactions were limited. I get it, I do, but I still wished I'd seen more of them!
Overall, I would highly recommend this book! Super cute, super fun, and completely unique! If you love contemporaries novels with a little bit of magic, and need something light-hearted, you definitely need to pick this up!