Swoon Thursday is a weekly feature hosted by #YABound
in which we share something that made us swoon in the
book we're currently reading or recently finished.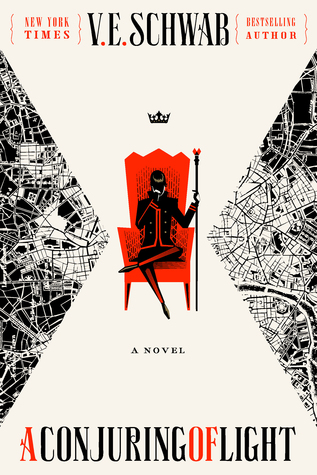 I'M ACTUALLY STILL READING THIS BUT NOTE: this book has already killed me SEVERAL times over and I'm loving every bit of it.
So I'm going to kill you guys with this lil kiss here hoo boy did I love it!
ALSO, this might contain a mild spoiler for AGOS, one that Schwab had actually teased last year!
Kell nodded, but when she turned away, he caught her hand. The touch was slight, but it pinned her like a knife. "That night on the balcony," he said. "Why did you kiss me?"
Lila's chest tightened. "It seemed like a good idea."
Kell frowned. "That's all?" He started to let go, but she didn't. Their hands hung between them, intertwined.
Lila let out a short, breathless laugh. "What do you want, Kell? A declaration of my affection? I kissed you because I wanted to and—"
His hand tightened around hers, pulling her to him, her free hand splayed against his chest for balance.
"And now?" he whispered. His mouth was inches from her own, and she could feel his heart hammering against his ribs.
"What?" she said with a sly grin. "Do I always have to take the lead?" She started to lean in, but he was already there, already kissing her. Their bodies crashed together, the last of the distance disappearing as hips met hips and ribs met ribs and hands searched for skin. Her body sand like a tuning fork against his, like finding like.
hardcover, pg 158
[screaming]
[continuous screaming]
Goodbye.