Swoon Thursday is a weekly feature hosted by #YABound
in which we share something that made us swoon in the
book we're currently reading or recently finished.
This week I'm featuring A Crown of Wishes by Roshani Chokshi!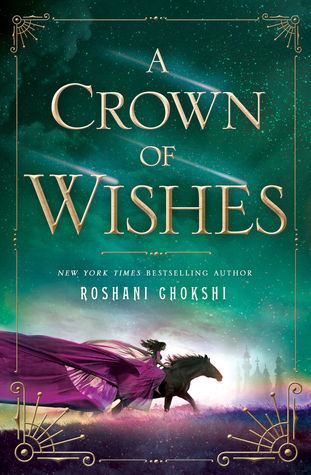 He didn't have time to think. She only turned her head to his, but he felt the movement pinch the world. The people at the edge of the room dis appeared. She leaned forward, pulled him to her roughly, and kissed him. . . .
The rational part of him knew this was a display for the attendant. But every other part of him couldn't care less. He threaded his fingers through her hair, pulling her closer. Her kiss burned in his bones. And maybe it was the magic of Alaka or maybe his mind was splintering from every thing they'd gone through, but he would have sworn she tasted like cold honey and caught magic.
He drew back. Her eyes fluttered open. She looked shocked. This close, her eyes were black and endless. In that stolen moment, a strange thought drifted to him. When he lived in the ashram, reading poetry aloud was a common pastime. He had spent hours listening to how the pull of certain people would supposedly make the world stop. Now he knew it was wrong. The world hadn't stopped. The world had just started to churn and breathe and live.
Swoooon. Roshani Chokshi's writing is magic itself and she's absolutely brilliant. A Crown of Wishes is already gearing up to be one of my favourites of the year, and if it isn't on your TBR already, do yourself a favour and add it!

And it comes out so soon! Mark your calendars for March 28—but in the meantime, why not pick up The Star-Touched Queen if you haven't already?