Hi friends! It's a brand new month so that means another episode of Monthly Recaps! Yay, joy, and all that other jazz.
Look. July just was not my month.
I almost didn't want to do this part because the more I thought about it, the more I realised how much I didn't like July. The last two weeks have been so... hectic and stressful and scary. And it goes just beyond another semester of college coming up.
But I don't want to dwell on it. This portion is always about the small things that made me feel better. So!
What on earth happened in July?
♩ I'm officially caught up on that thread of badly made aesthetics
♩ I'm still on record with my goodreads challenge! Still 11 books ahead!
♩I had some great buddy reads with my friends Michella and Danielle. And I've got another one planned!
♩ I was auto approved! For two of my most anticipated reads!
♩ I got to see my friend after a long time. Talking books and walking around was so much fun
♩ I got to catch up with my old middle school friends!
♩ And my best friend! We have a date planned with the other member of our high school trio this Friday and I'm hoping it goes through!
♩ FRY DATE WITH GAME BESTIES.
(Okay, I know the last two haven't yet happened but they're planned!)
♩ I finished seasons 1 and 2 of iZombie. Rose McIver even liked my tweet!
♩ I participated in a blog tour!
♩ I cleared out my goodreads shelves. Everything. I went from over 5,000 books added to less than 2,000.
♩ As of literally just now, I got a package from the NOVL. Which has never ever happened. and I am freaking out.
♩ Classes have been picked! Tuition paid! Takeout eaten!
Small things will still continue to matter! Onto the other stuff!
So I ended up reading 10 books this month! I had created a TBR and I found out how very bad I am at keeping track of it and following through. But the books I read were really good for the most part! And here they are...
My goal from last month still stands: at least try to read one backlist book a month. I'll see what I can manage this August!
recent happenings
I've decided that this section will be a little look into my personal life and what I was up to, other than reading, during the past month.
Music wise: While no new albums have released that I know of, music this month was good.
Wait. No albums, but an EP by Transviolet—Kaleidoscopes EP, and the main single from it is gooood. I adore the EP!
So, anyway. I listened to Zayn's album earlier this month, I believe. And I live tweeted it and my friend, Aimal, whom I want to thank for a thousand years because it was all her doing, me listening to him. So, I live tweeted and wow there were so many Zayn fans who just got how I felt for the songs. They were AMAZING. My favourite is probably TiO (Take it Off) but there were others, such as Lucozade and Like I Would, Rear View and Fool For You. The entire album was spectacular!
I also found two singles to obsess over—Fashion by The Royal Concept and There's Nothing Holdin' Me Back by Shawn Mendes. The latter was shown to me by a good friend of mine and I've had it on repeat for days now.
Netflix wise: So I gave up on Beauty and the Beast because it was actually terrible and trash. Just plain trash. Don't waste your time on it.
Anyway, I began iZOMBiE, a show that I watched on-off while it was on air. I liked what I watched but I never really kept up with it weekly like I did Arrow or The Flash. But recently I finished season 1 and season 2 and I liked it! I'm loving Ravi and the different characteristics Liv ingests—I guess?—because some of them are funny af. I'm currently slugging my way through season 3!
I've also started Gotham and I'm watching it with a friend of mine. It's a decent show, though not a lot of what has happened really captured my attention. But I'm halfway through so I'm hoping it gets more exciting.
Life wise: Ramadon finished and Eid came along! My mom was in the hospital for Eid—don't worry, she's fine now!—so we didn't really "celebrate". Not that we really do anyway... It's mostly me seeing my friends and house hopping and lots of food. But I had an impromptu Eid on Monday and my three friends came over and we just ate and talked and did a bit of makeup! It was fun!
anticipated reads
No TBR at the end of this because I've got an entire post dedicated to that (which you can check out here, if you feel so inclined!) There aren't many books in August that I'm excited for... probably only 2? Or maybe 3? And I've got most of them, soo... It's really just one, haha.
In any case, here is that one book: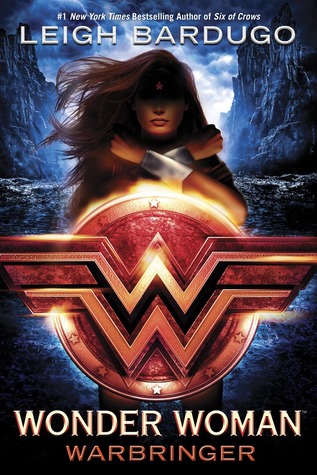 And speaking of this book, have you seen the cover for the Batman novel, written by Marie Lu?!
.•♫•♬•.•♫•♬•.
And that was all of July, basically. Did you guys have a good month? Or are you looking forward to August more? I know I am!